Today Sauna means not an unsightly wooden box but it is a cabin equipped in a modern way, made with great care of every detail; functional and well designed. Elegant and large, glass spaces make the sauna's dimension excellent and determine new standards.

In order to create our cabins KORNELIA we use tempered glass of large, bent planes. Only we are able to fit the radius of a bent glass to an investor's needs.

KORNELIA it is the most modern sauna you can find on the market.

Its basic equipment contains:
- a system to colour - therapy controlled with a remote-control
- double- function stove
- the lighting behind the backs of the seats (5 points)
- under-bench internal loudspeaker (2 loudspeakers)
- external ceiling loudspeaker
- 21-cal television
- DVD
- Doors with a hidden handle and a magnetic lock
- glass, illuminated refrigerator (220/12V)
- a practical bar
- a salt-iodine
- shelves for towels and wine
- bar seats with backs covered with leather
- two electrical installations: 220V and 24V
- installations: television, radio and telephone
- a set of accessories for a sauna

The characteristic feature of KORNELIA sauna is an external ceiling with a built-in lighting with a sticking out vault and round, corner elements.

The wood which this cabin was made of is a selected kind of alder (the external part).It is installed with the help of hidden feathers and or depending on an investor's taste - a panel without knots (inside)e.g. fir, cedar, aspen.
I order to make benches and finishes we use African abachi or aspen. What is the most important for us is that there must be no knots of our professionally made saunas.
Our products are practical decorations. Attractive exterior draws attention and invites to use it. It is the excellent supplement of home's Spa.

Our keynote "something for the eye...something for the body..." is just a supplement.

Sauna KORNELIA may be configured freely. For your needs we will adjust it to the needed dimensions. If necessary we can install the wide door (so that a wheelchair will be able to enter) etc.

The finish of the wood, doorsteps, stairs,a floor drain are covered with several coats of water resistant varnish. Benches, backs of the seats are repeatedly impregnated.
All the elements of the internal equipment of the cabin are constructed in such a way that they are easy at disassemble. Folding benches make that the sauna is easy to operate and keeping it clean is simple and very convenient.

Thanks to the modern devices and excellent carpenter's service, TAPIS.PL company is able to face the challenges, which are most often impossible for other manufacturers. The highest quality of wood, taking care of every detail and the finishes done with the professional assembly are a trump card of our company.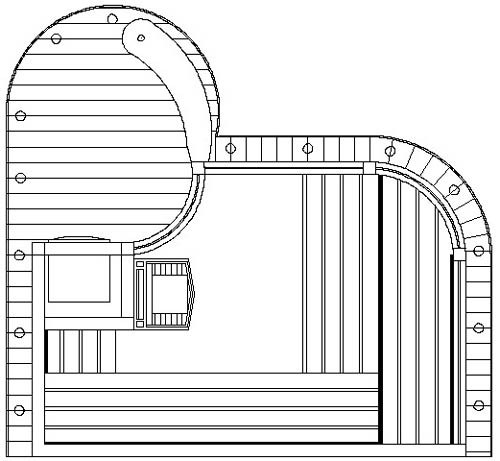 Kornelia - draft
Additional options:

- a set to spray aromatic essence
- starry sky
- oxygen bar
- salt screens
- deckchairs LAFUMA
- wooden washtub with a landing
- a bucket to overflowing
- floor drains made of plastic
- Body-Reflex a bed of anatomical shape
- Water Sprinkler
- massage brushes (ask for details)